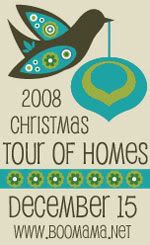 Last year I did a post about getting the house ready for the holidays and some of our family traditions.  Not much is different this year -- we're doing many of the same things.   This year we moved the furniture in our family room.  You can see our borrowed TV which I've tried to disguise by draping it in a Christmas linen.   I'm trying to limit the girls' TV time to just an hour in the evening, where we sit as a family and watch DVD's of Christmas specials (Little House on the Prairie, Wonder Years, the Snowman, Polar Express, etc.).  We've also been watching old home movies of their older sister Laura when she was little.  The girls love to watch Laura open her Christmas gifts in 1987, 1988, and 1989, and they are quick to point out the changes that have occurred around the house since then ("we used to have a real wood burning fireplace!"), and the things that haven't ("Hey, Daddy still has that shirt!")  Some things, like my husband's wardrobe, never change, despite my best efforts.


For some reason the girls wanted to be back on the beach in California, so they blew up a life ring and rolled around room, pretending they were in crashing ocean surf.

The beach is the last thing on MY mind these days (must write Christmas cards... have to shove the storage bins back in the attic... what can I give the teachers this year....).  I just love being in the presence of children with their vivid and wild imaginations.


This year another neighbor beat me to the candy house party, and I was happy to stand back and let her host.  In addition to getting everything set up for the kids, she'd devoted the dining room to the adults, covering a 12-foot table with deserts.  That's my kind of party!

We spent the afternoon eating, drinking fine coffee, and chatting about kids, holiday traditions, and plans for the New Year. 

 On December 6th St. Nicholas paid us a visit.  It was our first visit from him, prompted by the fact that we have a little German boy in our neighborhood now who filled the girls in on the joy of setting out your best pair of shoes and finding them stuffed with treats the next morning.  Of course the girls are game to adopt any custom that brings them surprises and candy.  Now they are asking if we can have Hanukkah, too.  Another neighbor has invited us to their Hanukkah party, so we will be celebrating it, but the girls won't be getting eight nights of presents like their Jewish friends will. 

Last night night Little K performed in a school musical as a tree.  I'd taken K to all the rehersals, but half the kids who signed up for parts never showed up for practice, and the teacher was at her wit's end.  The final performance was... how shall I put this kindly... Terrible.  I knew what was coming, so I didn't even bother to bring my camera.  Little K did great as a tree, standing there waving a colored scarf, but she had no lines to recite.   The girls have another week of school after this, and a multitude of parties and events to attend.  I'm doing my best to keep calm, keep it simple, and get those camera batteries recharged every night.
By the way, if you'd like to peek into other people's homes to see how they've decorated for the holidays, check this website!